Lost Isaac Newton writings added to Cambridge University collection
A notebook containing transcribed works of physicist Sir Isaac Newton has been added to a Cambridge University collection after being considered to be lost for over 340 years.
It was purchased at auction last year and belonged to John Wickins, Newton's long-time friend and partner.
Wickins translated Newton's correspondence as well as religious disputes from the late 17th-century book.
The original letters of Newton had been misplaced.
Wickins served as Newton's assistant and companion, and the two shared quarters at Trinity College from 1665 to 1683.
Scott Mandelbrote, a fellow of Peterhouse, Cambridge, and the editorial director of The Newton Project, which is dedicated to releasing all of Newton's writings online, identified the notebook text.
The book "presents the earliest datable evidence of Newton's theological writing", Mr Mandelbrote said.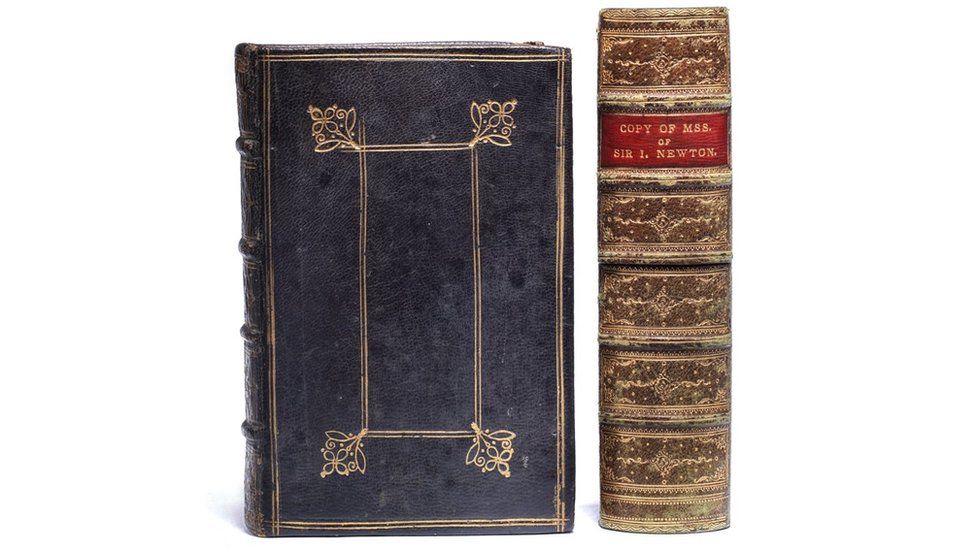 The notebook is the largest collection of Newtonian writing unearthed in the last 50 years, with 12,000 words in English and 5,000 in Latin.
Newton was supposed to discuss two religious problems in public, according to the Latin text, during a University "disputation" – or debate.
The journal only contains Newton's first disputation, but it illustrates the beginnings of Newton's interaction with unorthodox Christian views at the time, according to Mr Mandelbrote.
The passages, he claimed, demonstrated that Newton was "face-to-face with the great concerns of free will and evil."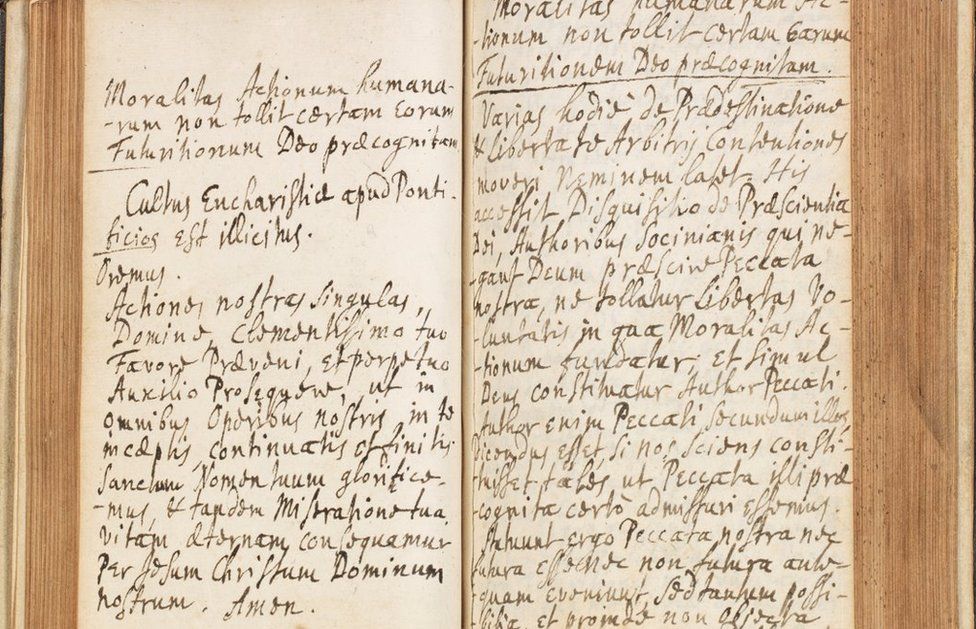 Also in the notebook are transcriptions of letters from Newton to Wickins in which he signs himself with various versions of "your very loving chamber-fellow/Is. Newton".
In one, Newton explains the difficultly of recommending suitable books for his friend to read, saying: "For what pleases me may not after perusal please you and then they will be but lumber to you."
The original letters had been lost by 1728, making these transcriptions in the notebook the only surviving record of this correspondence.
The contents of the notebook were "new to the world of scholarship", Mr Mandelbrote said
"Nobody has seen or referred to this material in the broader discussion of Newton and his work at any point until now, and it does change our view of what Newton was doing."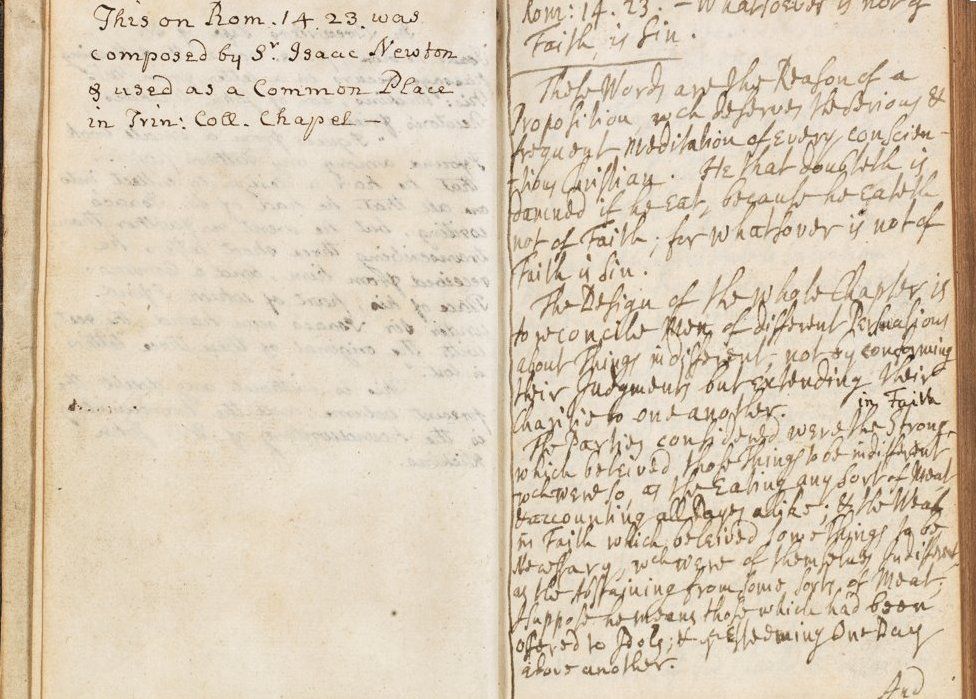 The book was auctioned by Bonham's in London in March of last year, and funds from Friends of the National Libraries, Friends of Cambridge University Library, and other donors were used to purchase it for the University Library's collection.
According to Bonham's website, the item sold for £62,750.
Although little is known about John Wickins, it is stated that he was "perhaps the one meaningful friendship Newton formed at Trinity College."